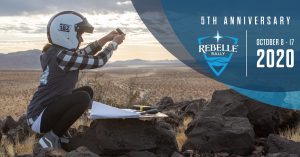 The Utah Public Lands Alliance (UPLA) is proud to support fellow Utahn Melissa Fischer in the 5th Rebelle Rally. The Rebelle Rally is an example of an activity that we feel merits our support because it uses Public Lands in a unique way that highlights one  of the many varied ways that we all can enjoy our backcountry byways. It also increases awareness of Offroaders of the role that UPLA plays in promoting and protecting these lands for access.  We are excited to be a part of this Event, and are pleased to have had an opportunity to interview Melissa to learn more about this all women event.
Melissa, thanks for talking with us today. Tell us about the Rebelle Rally.
I want to take this opportunity to personally thank UPLA for your sponsorship of Team 123 in the 2020 Rebelle Rally. The Rebelle is celebrating its 5th anniversary and I am proud to say that I've competed every year. I have been an active member of UPLA for several years, and am proud to receive their support and spread the role the organization plays in preserving responsible access to our public lands.
What is the Rebelle Rally?
The Rebelle is an 8 day off-road competition that offers a unique challenge: navigating roughly from Lake Tahoe to the Imperial Sand Dunes using only map and compass and trying to find roughly 150 different check points and participating in endure challenges testing time, speed, and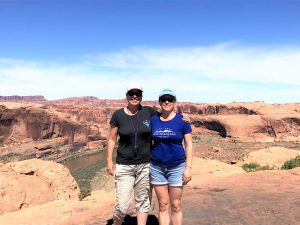 distance accuracy. There are 2 classes: 4WD and Crossover and each team is comprised of 2 women filling the roles of driver and navigator. I am primarily the navigator. My partner this year is Amy Hopkins.   
How did you hear about the Rebelle?
I've been an off-roader in Moab for many years and saw this posted on Facebook on some of the pages that I follow. The first two years, I competed on Team 104, year 3 as team 186 and now Team 123.
What do you like about the Rebelle?
 It combines some of the things I love the most: driving off-road through the deserts, camping, and competition. Finding a checkpoint in the middle of nowhere feels hugely rewarding. I also really like doing well and finishing in 2nd place last year made me definitely want to return. There's also something to be said for being off-grid for 8 days. There is no email, no phone calls, no texts, messages, or tweets, no ipads, movies, or TV. No contact from the outside world. The evenings in the remote base camps are quiet and beautiful and allow you to be in the moment.
How is the Rebelle scored?
First of all, it is not a race for speed but in using your allotted time wisely to move from one check point to the next. Typically the day starts with an enduro. This requires calculating your route based on a roadbook given to you that morning and hitting the waypoints within 5 seconds either way of the calculated time. Some of the waypoints have a timing  judge and that is where points are awarded. The rest of the 10-12 hour day is looking for checkpoints.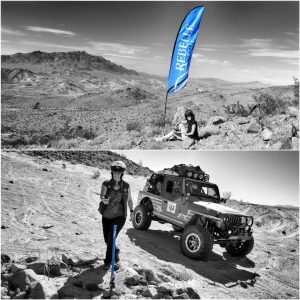 There are 3 levels of difficulty, green, blue, and black. The greens are mandatory and worth the most points. The blues are much smaller and more difficult to find. The blacks have no physical marker and requires a good reading of topography and triangulation to find the waypoint. The black is like a target, there are virtual distance rings and as you step further away, you earn less points. Each team has a gold brick tracker and will activate it when at a checkpoint. After sending, the yellow brick will give you the GPS and help confirm that you have points. I've included a score card from the last day of competition last year, where you can see that my team won the day with 96% of the points.  When an X is offered, it is a harder option and offers more points.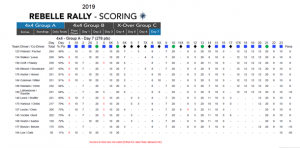 How do I learn more about competing in the Rebelle?
There is a great website at www.rebellerally.com On this site you can not only learn about the Rebelle Rally but you can actually follow me on the days of competition. There is a Live link and once competition starts, you can watch the scoring as it happens. In fact, since we cannot have access to any cell phones or internet devices so those at home know the standings hours before the teams find out. Right now, you can get familiar with scoring on the site using last year's data and it will go live on October 7th. There are also daily Facebook live updates and interviews and posts on Instagram and other social media platforms.
What are the Basecamps like?
It will be interesting to see the changes this year with the pandemic precautions but in years' past, there was a large central tent that had tables and chairs for meals and for the early morning plotting. There are typically 3-4 base camps that move along the route so each one is a bit different but there is always a mechanic's area where you or the mechanics can work on your vehicles for up to 2 hours each day without penalty if there is something in need of repair. There is also a fuel truck (no gas stations where we go), an area assigned for our personal tent set up, a place to park our vehicles (we have no access to them until the next morning), a food truck (we have a Michelin star chef and the meals are spectacular), and bathrooms with showers (yes, backcountry showers). Other than food, water and fuel, everything is packed into your vehicle including any parts you might need.
What is a typical day like?
The cowbell rings at 5am and if we are moving to another base camp, you have to pack up everything and get it secured in the Jeep. Then you head to the main tent for breakfast, get your score card and if there is an enduro, your road book. Depending on the time you get there, you can begin doing the math for your enduro and begin plotting your checkpoints on the maps. At 6am, there is a mandatory meeting where updates are given. Then you can continue to plot up until about 30 minutes before your departure time. Each day, you pick from a bowl, your starting position for the next day. First off the line is at 7:00am and leave every 1-2 minutes. You must be in your vehicle 20 minutes before departure.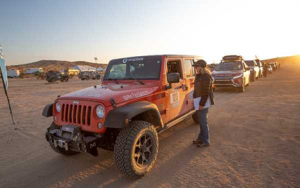 Here is a picture from the frantic morning time. The score cards usually have latitude/longitude of the checkpoints and you can see that I plot them carefully with a fine point pencil and then put little sticky arrows to help me find them again.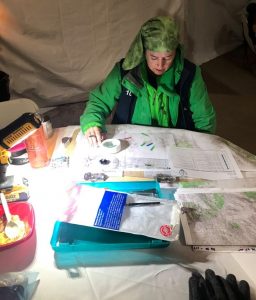 Your day depends on the allotted time to complete on your score card, typically 10-12 hours. So, if you start at 7:06am, you must be at the base camp by 5:06pm if you have a 10 hour day or you lose out on points.
Once you complete your day and return to camp, you check in, draw your start time for the next day, declare if you need the mechanic tent, fuel up, drop your camping equipment in the area, secure your vehicle in the designated area. Set up your camp, eat, attend evening meeting, sleep. Then do it again!
Where are some of the places you compete?
I've been to Dumont Dunes, Johnson Valley, Big Dune, Death Valley, Mojave Preserve, Razor OHV area, Gold Point, Slab City, the Salton Sea, Glamis, some really cool spots.
How have you finished past Rebelles and what are your plans for 2020?
2016-5th place
2017- 4th place
2018-10th place
2019-2nd place
For 2020, I'm obviously hoping to podium again and will certainly be shooting for a win. There are many factors over the 8 days including the care of your vehicle. This year, we will be competing in a 2006 Jeep L J Rubicon. I competed the first 2 years in an L J and the past two in a Jeep Wrangler JKU.
What would you say to women who are thinking of competing in a Rebelle?
I would say, just do it. It is a big challenge just to get to the start line, the cost element, the time required to train and prepare but you will experience and learn things you'll never believe. Then, do your homework, reach out to past competitors and research the website. There is an Unofficial Rebelle Prepping group on Facebook with great ongoing information. I'm also happy to answer any questions or share my experiences and why I believe this is the greatest game on earth. Redroxx2018@gmail.com
Please cheer for me October 8-17th! Team 123 Fischer/Hopkins. Our team name is Team 50/50 because both of us are 50 this year and we will each be contributing to the driving and navigation. Thanks so much for you support!
The Utah Public Lands Alliance was formed in Spring of 2014 to represent users of public lands in their efforts to keep public lands open to multipurpose use. Our officers and board of trustees come from varied backgrounds and the common interest of recreation in Utah and the surrounding areas. We believe that working as an alliance between the many different users of public lands cooperatively will help us maintain access and recreational use of these lands for our generations to come. We are an all-volunteer not-for-profit 501 (c)(3) organization.